He has one of the highest selling jerseys in the NFL, yet he is a backup Quarterback.  He won two National Championships in College, the Heisman and broke every single SEC record for a QB, yet he was only projected to be drafted in the third round.  Instead he was taken in the first round by the Denver Broncos.
1.  Work Harder Than Everyone Else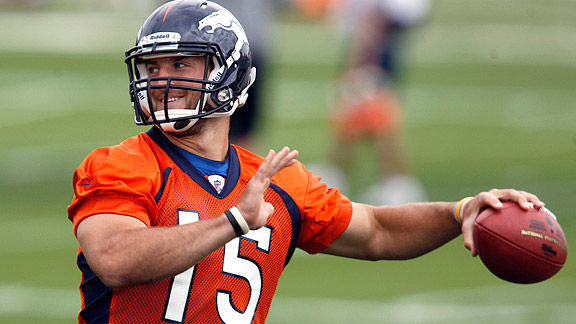 When they asked Tim how he stayed motivated while redoing his throwing motion to please NFL Scouts he simply stated "I ask myself everyday is there anyone out there working harder than I did today? Every day I assure myself No".  Startups are a lot of work from planning, to vision, to fund raising, etc.  I view it almost as a war.  So strap on your helmet and bust your ass.
2.  Be Inspiring
Keeping your team motivated in the startup game is always a challenge.  As you'll see from the clip below Tim makes sure to get everyone involved and excited about what they are going to be doing.  From the moment he hits the field the high fives, screaming and leadership is flowing.  If you inspire your team you'll be able to keep them loyal when times are tough.
3.  Be Assertive
Nobody wants to work with a pushover. If you are the leader act like it.  In the clip below Tim walks right over to the sidelines and tells the coaching staff "There is only one person who carries the ball right here".  A statement like that takes Gorilla Balls.  Sure enough he ran the ball into the end zone a few plays later.
Comments